Make translation easy to better serve your quality process
14/08/2019 by Fabrice Pierre
---

The implementation of tools to monitor quality controls is an omnipresent issue in central purchasing departments. At Fit Retail, the deployment of PLM system is often an opportunity to help and support our customers in these processes. However, the process is often only a part of the problem encountered.
It's in this context that one of our clients explained us the difficulty for its French teams to correctly use and interpret the informations written in Chinese, reported by the Chinese Quality Controllers in their PLM software.
However, the stakes are very high, as supplier scoring and supply decisions often depend on the quality and usability of this information.  In the use case here, Chinese QCs inspect factories in China and inputs information on the tablet. This information is of two types :
➜ Lists of values or checkboxes -> the translation is simple and pre-established
➜ Free text-> more complicated.
The client's wish is to have those Chinese texts translated in English. We have made two 100% functional mockups. Both mockups are based on the Microsoft Translator API. It is a neural machine translation service that developers can integrate into their softwares that require multilingual support.
The first one add a "translate" button to the tablet software. The Chinese QC clicks on the button during the audit, and as soon as the tablet accesses internet, the comment is translated into English.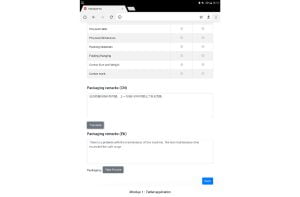 The second is a night-time process. The comments in Chinese were previously transferred from the tablet to the PLM. They are translated at night.
What about the translation quality?
These two mockups being realized and functional, we had to test the relevance of the automated translation. We therefore called on Wei Zhu who played the role of Quality Controller and noted the quality of the machine translation.
The results obtained are very conclusive since the vast majority of translations reach scores ranging from 7 to 8 out of 10. Only one of the translation scored below average. We can therefore recommend the use of this technology for internal needs.
As this work was carried out within a POC, it will be important during a project to deepen and enrich the translation tool. Of course, we would be delighted to discuss the work done. If you have any questions, please do not hesitate to contact us.
Fabrice Pierre : fabrice.pierre@fit-retail.com
14/08/2019 by Fabrice Pierre